COPEX adapts its standard ranges to nuclear waste recycling.
The management of waste from nuclear activity is a major industrial issue, especially since a growing number of nuclear power plants will be dismantled in the coming years.
Several options are available for the treatment of these waste materials, both from operation and from dismantling/decommissioning:
Storage in landfills,
Smelting of metal waste intended for recycling,
Or incineration, for non-metallic waste.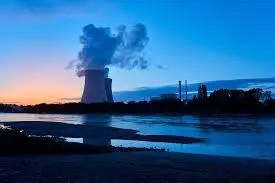 For the treatment/processing of its waste materials, the nuclear sector is confronted with the same issues as the ones already known to recycling professionals, namely minimising transport and storage costs through optimal densification of the material.
Taking into account operational and maintenance safety
The COPEX machines can be adapted to take into account the safety requirements (EXS) according to the level of activity of the waste, and to guarantee their treatment and processing in complete safety for humans and environment.
Operational safety
Machine containment best suited to the level of radioactivity
Specific control station by means of a touch screen control panel
Automation of certain operating phases
Management interfaces with peripheral devices
Effluent and fines recovery system for their recycling
Sound and vibration insulation
Fire risk management through detection systems
Dust extraction systems with emergency cycle in case of suction failure
Maintenance safety
Determination of safety zones around the machine with safe access and presence detection systems for absolute personnel safety
Specific tools for maintenance in confined areas
Adaptations for radiological cleanliness and decontamination of equipment
Remote maintenance testing
Importance of engineering competence
COPEX has been supplying waste processing equipment to the nuclear industry for more than 30 years. The many references are proof of COPEX engineering expertise, which already starts at the preliminary design stage and continues with a close collaboration with the different actors throughout the project.
The safety of our installations is guaranteed by approved organisations/control bodies. Our machines are assembled and commissioned by COPEX technicians who have the necessary working authorizations and are accustomed to working in sensitive areas.
For applications in the nuclear sector, we can propose several machines:
COPEX : The Power of Experience to Assist You with Your Project.