PCC lid balers are used to compact metal chutes and metal waste into high-density bales. They offer perfect versatility, being particularly suitable for the recycling of bulky and heterogeneous products.
Fully automatic and fed by means of a grapple, they provide an optimal response to the requirements of professionals in the industry and in the recycling of scrap and metals. They can be installed outdoors or indoors, and do not require any special civil engineering.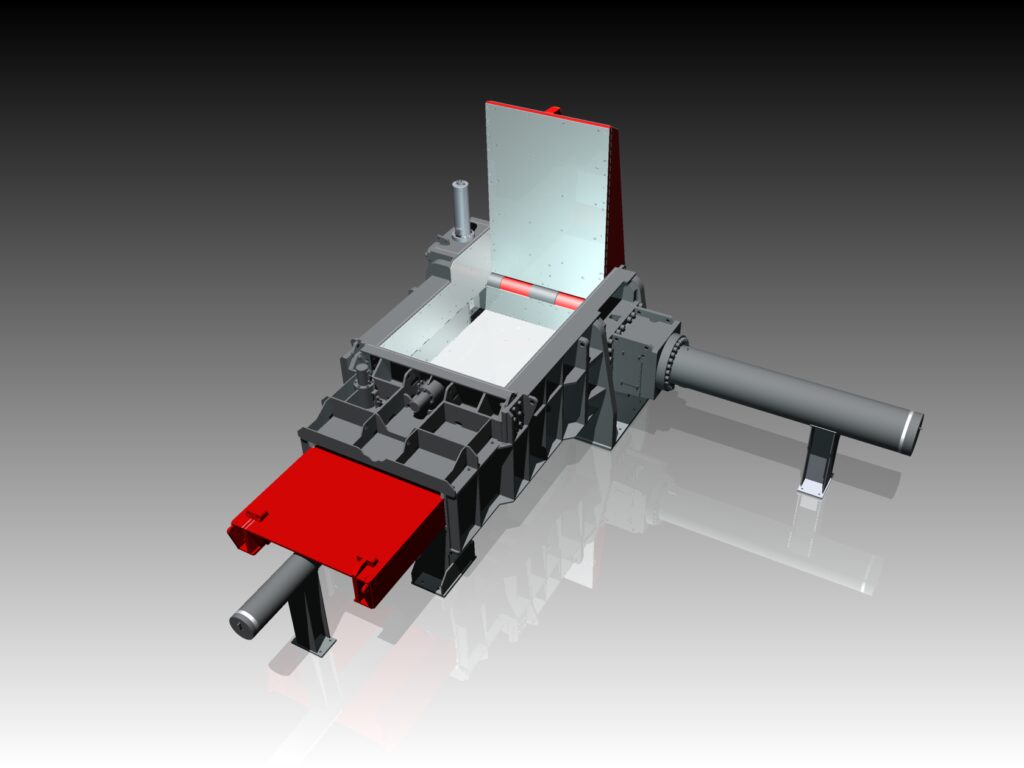 Specific advantages of the lid: Unequalled compaction efficiency
The lid that completely covers the top of the press box makes it easy to load the material into the press.
Thanks to the implantation of the lid in opposition to the piston of second compression, the baler offers a high compacting efficiency. The piston with a full guide system feeds the material into the area where the lid has the greatest force, which also helps to reduce cycle times.
The positioning of the lid in relation to the piston allows the compacting cycle to work automatically. This means that the operator is no longer mobilized for compaction operations and frees up time for other operations.
The bale can be taken over very easily by grapple in case of loading overflow.
Cutting blades for products protruding from the box are no longer necessary, which helps to reduce maintenance costs.
Key Advantages
---
COPEX offers a wide range of lid balers which are characterized by their high performance and very long service life. They can meet all operating needs:
Processing of all types of ferrous and non-ferrous waste: metal scrap (copper, aluminium, zinc, steel, stainless steel, etc.), household metal waste from selective collection, light scrap, etc.,
Presses designed for industrial and recycling customers,
Solidity and reliability thanks to a robust welded construction,
Very high material densification,
Feeding hopper adapted to the different materials to be treated and to the operating mode,
Large loading opening,
Adjustable mechanical stops on the compression pistons for precise guidance during compaction phases,
Optimal protection of the compression cylinders by mechanical locking,
Ease of installation without special civil engineering, meeting the space constraints of industrialists,
Grooved wear plates when requested by the materials to be compacted to avoid any risk of jamming,
Operational safety,
Low noise level,
Efficient hydraulics and high production outputs due to simultaneous movement completion,
Fully automatic operation,
Intuitive touch screen HMI interface for access to production parameters and operating data: Adjustable bale length, final pressure and density,
Optimization of maintenance operations thanks to touch screen controls,
Remote maintenance via modem,
Reduced operating costs thanks to long and reliable guides.
Technical Features
---
Model
P1CC 5030
P1CC 6320
P2CC 3030
P2CC 4040
P3CC 6060
Bale section
500 x 300 mm
630 x 200 mm
300 x 300 mm
400 x 400 mm
600 x 600 mm
Feed opening
1100 x 500 mm
1245 x 630 mm
2000 x 1150 mm
2500 x 1760 mm
5500 x 2000 mm
Final compression
80 t
100 t
120 t
250 t
1000 t
Hourly output
Aluminium
≤1 t/h
≤1 t/h
≤ 2.2 t/h
≤6 t/h
≤23 t/h
hourly output
steel/copper
≤3 t/h
≤3 t/h
≤ 6.5 t/h
≤17 t/h
≤67 t/h
Installed power
37 kW
37 kW
37 or 55 kW
110 or 180 kW
270 kW
Gallery
---