The Breton recycling specialist has acquired a new Copex shear. This time it is a S-Wing of 1000 tons cutting force which has just been commissioned in the port of Brest (France).
Scrap metal recycling is one of the company's core activities. In 2021, 30,000 tonnes of "decarbonised" steel were delivered to foundries in northern France and elsewhere in Europe. This scrap comes mainly from ship breaking (pleasure boats and large ships), an activity in which Les Recycleurs Bretons is a European leader.
With this new shear, the company joins the rather exclusive club of Copex customers owning all three scrap shears series proposed by the French manufacturer. In 2011, it acquired one of the first Lidex, 800 tons with a containerised hydraulic unit of 3 x 110 kW.
In 2018, a 650-tonne REFLEX fixed shear was installed in the port of Brest.
From now on, the 1000 ton S-WING shear with compression by press wings, also installed in Brest will complete the strike force of Les Recycleurs Bretons.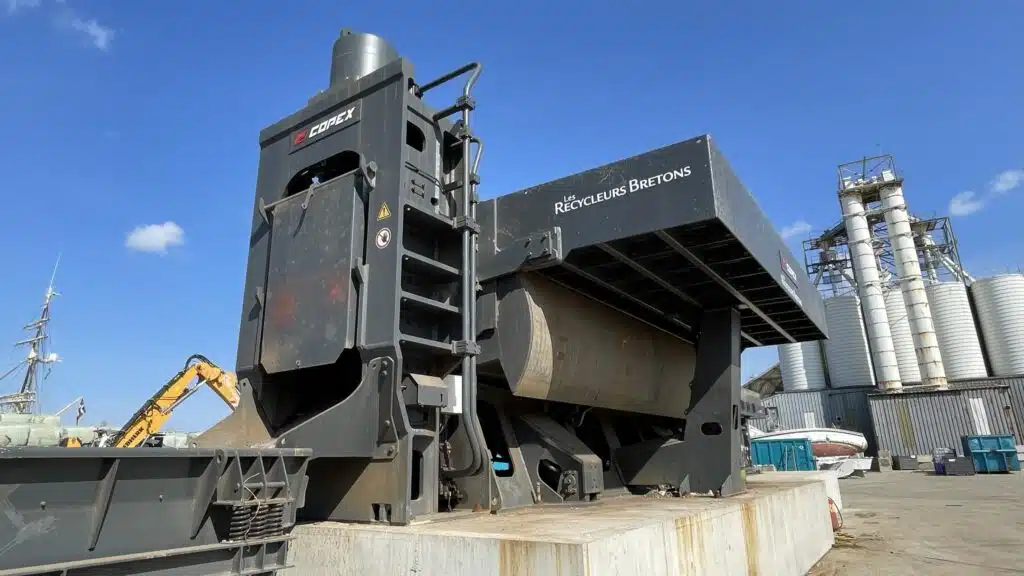 Among the arguments that seduced its CEO Pierre Rolland: "Our S-WING is a real heavy duty version of shears with press wings. Everything on this machine is reinforced to allow for intensive use. In addition, some of the technical features of the Lidex can be found on our new machine, such as the shear ram guide which is longer and more robust than on other shears of this category, and the maintenance platform for changing the blades. That's what made me decide to go for it.
Know more about Les Recycleurs Bretons : https://www.recycleurs-bretons.fr/
Date : 06 June 2023
---